The A B C's of Travel Photography

From Paris to Antarctica -

Savvy travel and photo tips for superb imagery!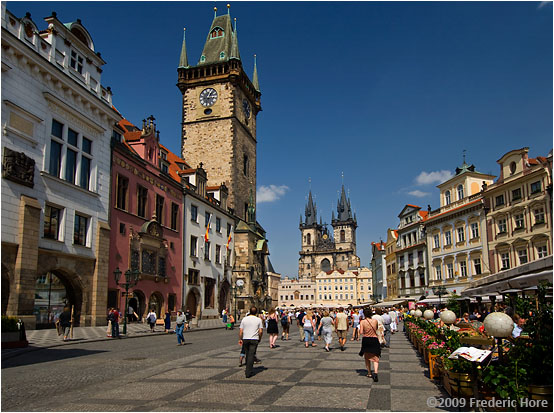 Our 9th Year at Stewart Hall!

Tuesday, May 16 2017 from 7pm to 10:30pm

REVISED & UPDATED!

With new travel apps, digital maps & websites

A Special 3 1/2 hour evening seminar
to prepare you for your next odyssey!

Pointe Claire Cultural Centre
Stewart Hall - Salle McLean
176 chemin Bord-du-Lac / Lakeshore Road
Pointe Claire, Quebec
HOT BUTTON TOPIC: "What are my rights should I get bumped from an overbooked flight in Canada or elsewhere?"
"What are 'Open Jaw' tickets, and how can I use them to my advantage for travel flexibility and to save money?"
"What websites give me the best rates for car rentals, airfares & accommodation?"
"What camera equipment and filters do I need for superior imagery?"
"Should I check my camera gear in my luggage, or bring it on board as carry-on?"
"What security and protection measures should I take for my camera gear, smart phone and other valuables from thieves and the weather?"
"Is it safe to travel on the trains in Europe?"
"Where can I find the latest and BEST information for my next destination?"
"Who sells the BEST guides and digital map apps for cities and countries around the world?"
"How do I avoid the long lineups for museums such as the Louvre, Chateau Versailles & Van Gogh in European cities?"
"What are the costs and considerations to cruise and visit penguin colonies in Antarctica?"


  In this three and half hour seminar, the A B C's of Travel Photography are discussed - from planning your trip, researching the country and its local customs; to volunteer travel and even unique lodgings, such as foreign home-stays, home exchanges, AirBnB, and even youth hostels!

  Learn how to save hundreds of $$$ in airfares flying to the same destination... on the same day! For "cruisers"- learn how to save BIG money on your next voyage!

  From my own experience over 40 years travelling to more than 50 countries on all seven continents, including 7 expeditions to Antarctica, I will share with you my tips and techniques to make your next foreign adventure more vital, healthy, fulfilling, stimulating and secure. A demonstration of various new products, will protect your camera equipment, valuables and luggage making them slash proof and theft resistant.

I will show you how you may volunteer on stimulating and engrossing scientific expeditions in unique places, closed off to the public, with no experience necessary!

And you will learn what mishaps to avoid, from some of my own misadventures, from bad visas, missed flights, to dealing with the Russian consulate in Mongolia! Learn your travel rights should you get bumped from an overbooked flight.

  To round out the evening, a digital slide show of memorable travel images from around the globe will be presented - from Chile, France, Holland, Iceland, the Czech Republic, Morocco, Argentina, Antarctica and many places in between, with details on how and where they were taken.

  So come with your questions... and be prepared to have some fun!
  After all, before you take the photos... you have to get there first!

Recommended for everyone who loves to travel!


One night only!

Tuesday, May 16, 2017 from 7pm to 10:30pm

Presented in the gorgeous Salle McLean


Provided to participants - An 18 page printed Resource List featuring :

- NEW! Airline, travel, map and photography apps for your smartphone or tablet
- Photography, weather, sunrise-sunset, and travel websites
- Unique home stays, B&B's, private lodging and home rentals
- Reputable volunteer travel on community, environmental & scientific projects
- Lesser known European discount airlines and lodging websites
- Security products to hide your cash, passports and valuables
- Transport Canada website with overbooking regulations & payouts for delayed flights
- Expedition companies and tours to Antarctica
- a Photographer's Check List plus
- WHERE to BUY directory of the more obscure products including
   camera accessories, Michelin & ITM road maps, unique guide books & more

A followup PDF document with all the above details, resources and internet links is provided to registered participants!

All this to plan your next Grande Route!

Cost: $20 (taxes incl)

Register and pay on-line at: https://ludik.ville.pointe-claire

On the main registration page, enter PHOTOGRAPHY FOR TRAVELLERS in the box "Search for Activities" or "Rechercher des activités"

You may also register by phone, or pay at the door in person at the Stewart Hall Cultural Centre, 176 Lakeshore Rd / chemin Bord-du-Lac, Pointe Claire, from 8:30am to 7pm (Monday to Thursday), and 8:30am to 4:30pm (Fridays).



For more information and to reserve your place, please call:

514-630-1220
Frederic Hore
Not to be missed!