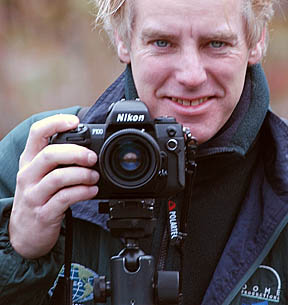 I think it was a plot by my parents. Give the lad a camera to keep him occupied... and out of mischief! Mom claims she did it to develop my artistic talent. Then Dad got in on the act. When I was 15, he loaned me his beautifully crafted, German-built, Voigtlander 35mm rangefinder. That was it - I was smitten!

After graduating from college, I briefly worked as a photographer-reporter for a newspaper in British Columbia, then freelanced in Western Canada and the Maritime provinces before returning to my native Montreal. Some four decades later I'm still "playing" with my cameras... and getting into trouble too!

Through the years, my trusty cameras have been at my side to capture the moment, whether I was 40 meters beneath the waves, traversing great continents by train, vehicle and foot, or gliding 10,000 meters high above it all. Along the way - fascinating people, exotic cultures and mystical lands have graced my films and enriched my life.

Not long after my parents gave me that small Kodak Brownie Instamatic, I purchased my first 35mm SLR film camera - a Minolta SRT101. Today my kit consists of several Nikon digital bodies and a wide range of Nikkor lenses.

While travel, landscape and portraiture photography are my forté, I also capture a variety of other subjects including nature, architecture and nightscapes. Constantly striving for perfection with a fresh approach, means trying new methods and learning new skills.

In the past 22 years, at the invitation of various groups, libraries and organizations, I've been able to share my passion for travel, entertaining audiences with the culture, history, architecture and geography I have encountered, in more than 210 presentations.

Exploring my galleries will reveal a selection of images from 26 epic travelogues. Some have won awards, others have been widely published, while some are my own personal favourites, selected from unique places around the globe. All the photographs displayed from my sizeable archive of 50,000 images are available for purchase - contact me for details!

Crafted as a portfolio for clients, workshop participants and image banks, this website allows me to satisfy frequent requests by the public to see more of my imagery.

Additional images and galleries from my epic odysseys are frequently added -
return often to discover what's new!

I hope you enjoy the journey. :-)
About Frederic Hore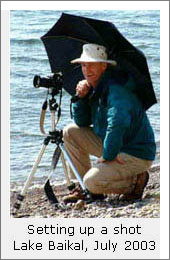 Montrealer Frederic Hore is an award-winning freelance photojournalist, writer, videographer, lecturer and teacher. He is passionate about news, science, culture, the arts and the great outdoors.

A NPPA (National Press Photographers Assoc) member since 2014, he worked as a freelance photojournalist with the Montreal Gazette and Postmedia Network Inc for eight years (2008-15) and as a staff photographer, guide and instructor on six expeditions to Antarctica (2013-16). He pursues editorial and commercial assignments for clients worldwide and volunteers on Earthwatch Institute scientific projects to remote corners of the planet.

Widely published, his images and/or stories have appeared in the NY Daily News, Huffington Post, The National Post, Montreal Gazette, Ottawa Citizen, Edmonton Journal, Vancouver Sun, Canadian Geographic, CNN, CTV News, CITY-TV, Bishops University Alumni Magazine plus numerous other periodicals and websites. He has appeared twice on CITY-TV's program Breakfast Television, discussing the fauna and environmental issues of Antarctica.

A Communication Arts graduate from CEGEP Dawson College in Montreal, Frederic has lived or worked in most major cities in Canada from coast-to-coast. His international excursions, including extensive travel in the continental United States, have taken him to more than 50 countries on all seven continents, including seven expeditions to Antarctica. He has an extensive photographic archive of more than 50,000 images, encompassing 40 years of diverse assignments.

His epic odysseys form the foundation for dynamic multimedia productions, presented with engaging music and lively travel lore, illustrating the people, culture, life, history and fauna of the lands he visits. In the last 22 years, he has presented more than 210 travelogues to public and private organizations in the Montreal region, and on-board expedition ships to popular acclaim.

For photography devotees, Frederic teaches a variety of workshops during the winter months for all skill levels at the Stewart Hall Community Centre in Pointe-Claire, Quebec. Stimulating and well-organized photographic field trips and outings are offered throughout the year.

An outdoor enthusiast, Frederic is an avid hiker, canoeist, cyclist, cross-country skier and certified scuba diver. His imagery may be viewed at Remarkable Images.ca
Affiliations
Canadian Freelance Guild (CFG)
National Press Photographers Association (NPPA) NPPA.org/FredericHore
Canadian Association for Photographic Art (CAPA) capacanada.ca
A few words of thanks…

• To Derrick Hanni, my very talented and long-suffering webmaster at www.dhanni.com

• To Peter McCabe- pro photographer and mentor; Suzi Smart- my first inspiring webmaster; marketing whiz Dave Farrant and good friend Lynn Scanzano - who individually with their passionate and valued assistance, brought this site from concept, to reality and fruition.

• To Barbara Deans, photographer extraordinaire and Fellow of the Montreal Camera Club, whose referral and kind words started me on the lecture circuit in 2001.

• To my parents Elsa and my late father Henry, very artistic and inspirational in their own way, Thank You for your love, devotion, and support through the years. I dedicate this website to you!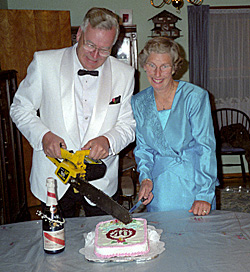 Dad the Joker!
Henry & Elsa

Photo credits : Top - Michel Guzzi, Montreal;
Center - Dave Thomas, England