Remarkable Images
PHOTOGRAPHY BY FREDERIC HORE



Lectures & Talks


Iceland - the HOT Glacial Paradise!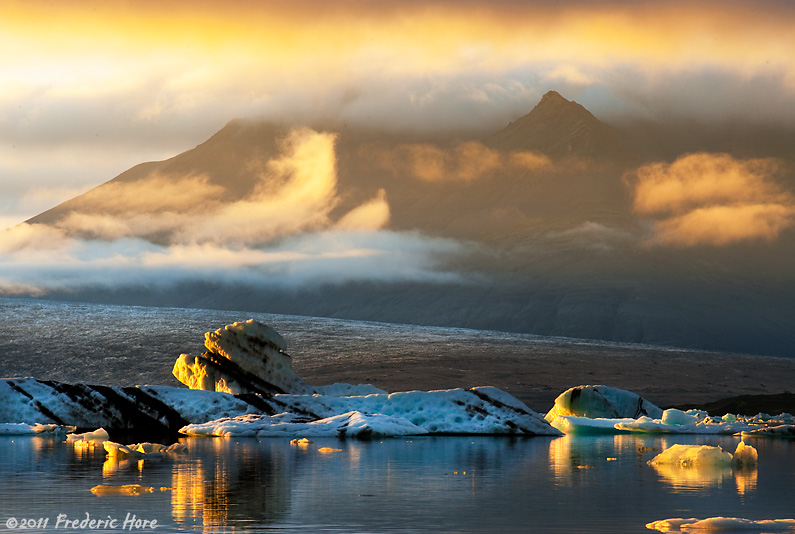 ---
"Careful... it's boiling hot!"

Standing inside the caldera of the enormous Krafla volcano, I was photographing white steam raging out of a craggy vent, when a friend issued the ominous warning.

With boiling mud pots, fumaroles puffing plumes of odorous white hydrogen sulfide gas, and reddish-orange hued mountains towering over us, the moon-like landscape near Myvatn Lake in Northern Iceland, could easily have been the Devil's kitchen!

I had joined several volunteers to work on an Earthwatch Institute project, studying the volcanology of this small rocky, island nation. With active volcanoes and occasional eruptions, there was much to learn.

And yet, just to the south, lay tens of spectacular, glowing white glaciers slowly marching out to sea from the Vatnajokull ice cap. Outside of the polar regions, this is the largest mass of frozen ice in the world!

Featuring steep plunging fjords, twisted black lava fields, and thousands of marvelous waterfalls, the diversity of this beautiful country, is augmented by millions of nesting seabirds, colourful puffins, and hundreds of whales frolicking in the seas nearby.

Welcome to Iceland - the HOT glacial paradise!

Come along for the journey, as intrepid adventurer Voyageurfred recounts his 32 day odyssey through the "Land of Fire and Ice". You will be captivated by the stories of the Vikings, stunning imagery, the ethereal melodies of Icelandic musicians, and his unusual "tales from the trails!"

It's a 90 minute multimedia "experience", you don't want to miss!

---
>

Frederic Hore
Not to be missed!