Remarkable Images
PHOTOGRAPHY BY FREDERIC HORE



Lectures & Talks


The Kingdom of Jordan -
Journeys Through an Ancient Land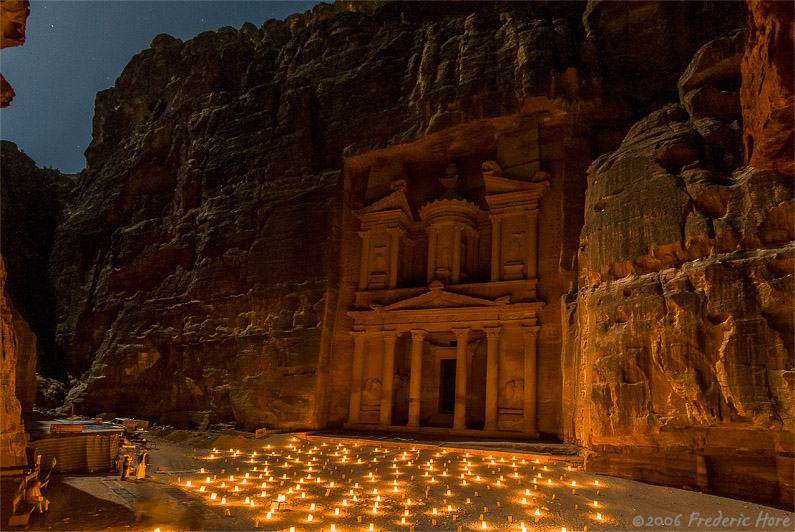 ---
"Wanna ride Michael Jackson?"

Sitting on a gray donkey, the bronzed young Bedouin boy flashed me a white toothy smile, with that imploring look children are very good at.

I was tired and hungry after a day of hiking through the mountainous peaks and valleys of the stunning archeological ruins of Petra, while slugging a heavy backpack. It was nearing the end of the day and I had at least a 5km, uphill walk ahead of me, to reach my hotel. The offer was so alluring, then I thought back to my last lumpy, bumpy camel ride in Morocco. Not a good idea!

"Why do you call him Michael Jackson?" I asked.

"The tourists like it!" he chuckled, "and because he dances like him too!"

From the Dead Sea with its parched landscape, to the exhilarating Roman ruins at Jerash, join Voyageurfred as he presents stunning images of the Kingdom of Jordan, featuring Petra - the 2,000 year-old, rose-coloured city carved into solid rock by the Nabataean people, the ancient Crusader castle at Karak, historic biblical sites at Madaba, camping in a Berber tent on the red desert sands of Wadi Rum - made famous by Lawrence of Arabia, plus many more intriguing sites.

With his historical notes, stimulating travel lore, and sumptuous Arabic music, it's a 90 minute show with a Mid-East mystique!

Not to be missed!
---
>

Frederic Hore
Not to be missed!