Remarkable Images
PHOTOGRAPHY BY FREDERIC HORE



Lectures & Talks


Uncovering Peru - Land of the Inca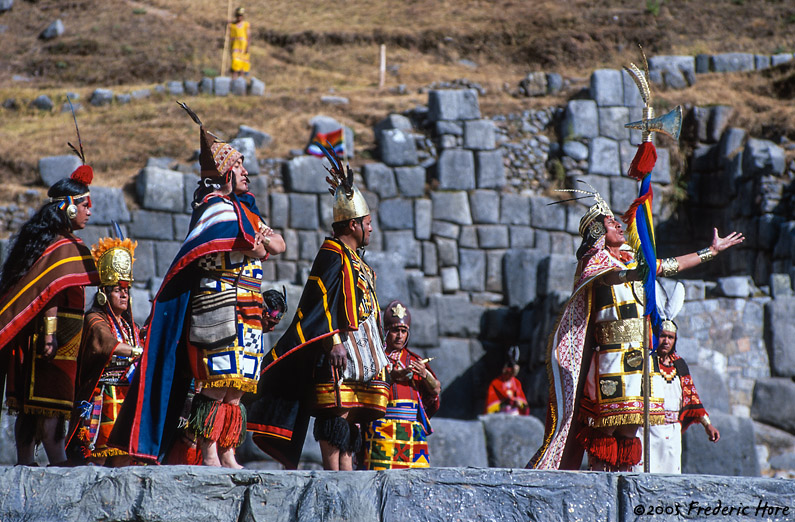 ---
The professor gave me a hard look!

His face was contorted and his elongated nose was as long as Pinocchio's! Dressed in a flowing black robe and black pants, he was striking a book with the curved handle of his dark cane, mocking me... to study hard!

In what resembled a farcical country and western line dance, ten other professors behind him, all sporting masks with over-sized schnozes, moved together from side to side in a rhythmic motion while tapping their books with long canes, imploring the audience to "hit their books." Children and adults lining the streets, howled in laughter and applauded with approval, as they all pranced by.

Welcome to Cuzco's week-long Fiesta del Sol celebrations, one of many highlights from my seven-week journey through fascinating Peru! Come along for the ride as I visit ancient Moché temples, go high altitude trekking in the snow-covered Andes mountains, boating through mist-shrouded rain forests, and a dazzling aerial tour high above the mysterious Nazca Lines.

See Cuzco and the Sacred Valley, the heart of the once powerful Inca Empire, and home to the fabulous ruins of Machu Picchu. Then view archaeologists and volunteers from the Earthwatch Institute at work, as they excavate 1,500 year-old artifacts from a pre-Inca site of the unknown Wari Empire.

A challenging trip, I had to overcome the theft of two cameras, nausea and blurry vision at 15,000 feet, the exhausting heat and humidity of the rain forest, plus the sand and winds of the desert pampas. But it was also the most rewarding, as I encountered fascinating Peruvians, while learning about their various cultures and history of this diverse land.

So join Voyageurfred for the adventure, as he reveals what was uncovered and experienced along the way. It's a vibrant and colourful 90 minute multimedia show featuring Peruvian music and lively travel lore!
---
>

Frederic Hore
Not to be missed!