Remarkable Images
PHOTOGRAPHY BY FREDERIC HORE



Lectures & Talks


Wildlife of the Mongolian Steppe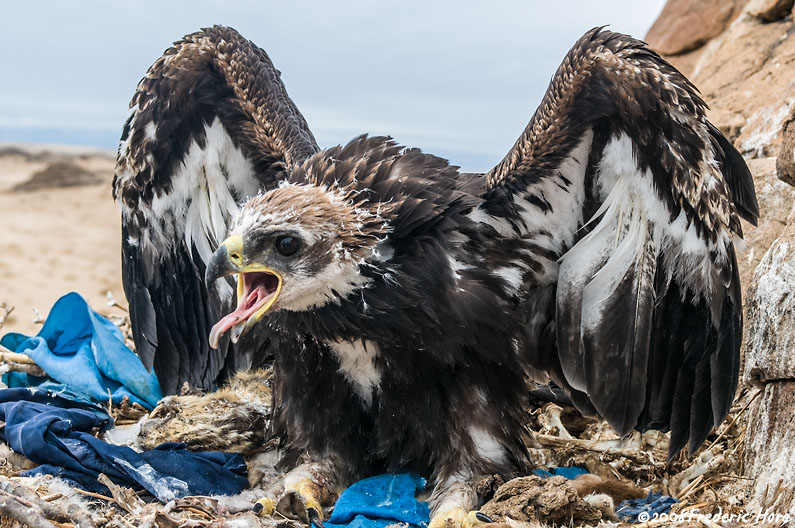 ---
The dash, happened in a flash!

In the thermal air currents rising from the hot, barren stony land of the Gobi Dessert, high above us, a couple of small raptors drifted lazily aloft. As we stared at the pair through binoculars and cameras in the shade of our small Russian van, one of them dropped down to a crevice - perched high in a rocky pinnacle. In a flash, the bird was fluttering about to and fro, its leg ensnared in a small nylon lasso, placed there earlier in the morning.

Pujee scrambled up the bolder strewn hill to catch the bird, before it injured itself. A few minutes later, the Mongolian biology student returned smiling broadly, holding a small, female Lesser Kestral. After measuring, weighting and banding the feathery hunter, she was released and flew off unharmed. Then the quest started once again to find and tag another raptor. We captured three kestrels that morning, it was a good day!

The Gobi. Straddling southern Mongolia and China's northern frontier, it's one of the coldest, most northern, and fourth biggest desert in the world! It's also home to Asia's largest cinereous vultures, long-eared Jerboa, wild Argali sheep, locusts, poisonous vipers, and much more.

Working as a volunteer on an Earthwatch Institute funded research project at the Ikh Nart Nature Reserve, I had joined biologists and scientists to study, observe and track, the diverse wildlife that inhabits the vast Mongolian Steppe.

A vibrant and colourful 90 minute presentation, this Nature show features the fauna, flora and people that inhabit this vast arid land, enhanced by Mongolian folkloric music, and Voyageurfred's effusive dialogue with his usual tales from the trails.

It's a journey into a remote desert... unlike any other!


---
>

Frederic Hore
Not to be missed!