Christmas Lights Wonderland Tour

Alight at Night!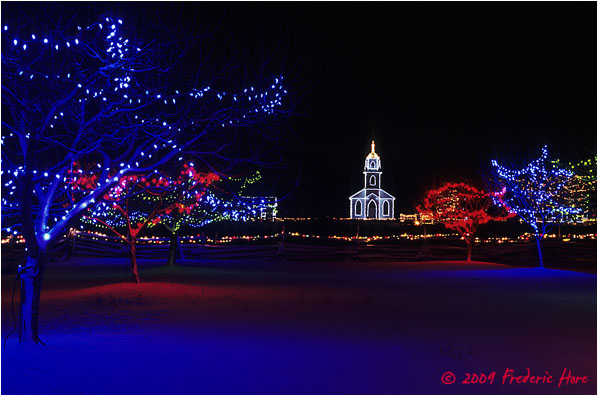 Returns, December 2017 from 4pm - 10pm

Upper Canada Village, Morrisburg, Ontario

Places Limited - Register soon!
Nestled next to the St Lawrence River, historic Upper Canada Village is the setting for this truly unique workshop. An 1800's pioneer style settlement, its rustic old farm buildings and houses are festively decorated with more than 1 million colourful lamps in hues of red, blue, yellow, orange, green and even lavender! Everywhere you look, beautiful light... enhances the sight!

With a carpet of stars twinkling in the skies above us, for more some four hours, we will photograph the lit-up village with its horse drawn carriages and calèches, clip-cloping though the winding, snow-covered trails. Holiday tunes like Karen Carpenter's "Walking Through a Winter Wonderland" floats through the air, intensifying the feeling. Truly a magnificent, wintry setting to bestow!

A delightful, three-course banquet follows at the Harvest Barn located inside the village grounds. Vegetarian dishes are available too. We conclude the evening with an image evaluation session, to help you process your photos to the max!


Workshop participants will learn how to strengthen their skills at composing and exposing for nightscapes with brightly lit details, at select locations on the snowy grounds. One-on-one instruction includes exposure guidelines, tips on how to evaluate your results on the Histogram, using the "highlights" setting on your camera, auto bracketing to create HDR imagery, plus composition suggestions to assure you come away with superb images from a memorable evening.

NEW! We will have early access to the site, to be able photograph and take advantage of the changing evening light at dusk, and cobalt blue skies of the coming night.


Your Payment includes instructional material, three to four hours of photography, plus a tasty banquet to fuel your creativity. A complete Itinerary, Photo Checklist, Maps and Directions to the site, will be emailed to confirmed and paidup participants.


Maximum participants:  8 photographers

Date:  Saturday, December 20, 2014 *

Workshop location:   Morrisburg, Ontario

Rendezvous Point:    Parking Lot, Upper Canada Village

Rendezvous time:  4:00 PM

Sorry - Sold Out!

Skill level:  For all - from Beginner to Advanced


Cost and payment:

$130   (includes Park entrance fee, banquet, and all taxes)

A spouse or partner are welcome, please add $35 for the park entrance fee and banquet.
All taxes are included; alcoholic beverages and tips for meals are not included.


Last minute payments may be made in person. Please call 514-403-4044 before Noon Thursday December 18 to make arrangements.

A receipt will be provided by email as a PDF, at the conclusion of the event. Email confirmation will be provided when payment is received. Printed receipts provided upon request.


Terms and Conditions:

Payment must be received in full by Thursday, December 18th, 2014 at 17h00 to secure your place.

* Full refunds will be provided in the event of sickness by the workshop leader Frederic Hore.

Read more about Alight at Night here:

www.uppercanadavillage/alight-at-night



Reserve your place, by phone or email:

514-403-4044

fhore@Remarkable-Images.com
Frederic Hore
Not to be missed!