Remarkable Images
PHOTOGRAPHY BY FREDERIC HORE



Workshops & Fieldtrips


Mastering Photoshop Elements LIVE!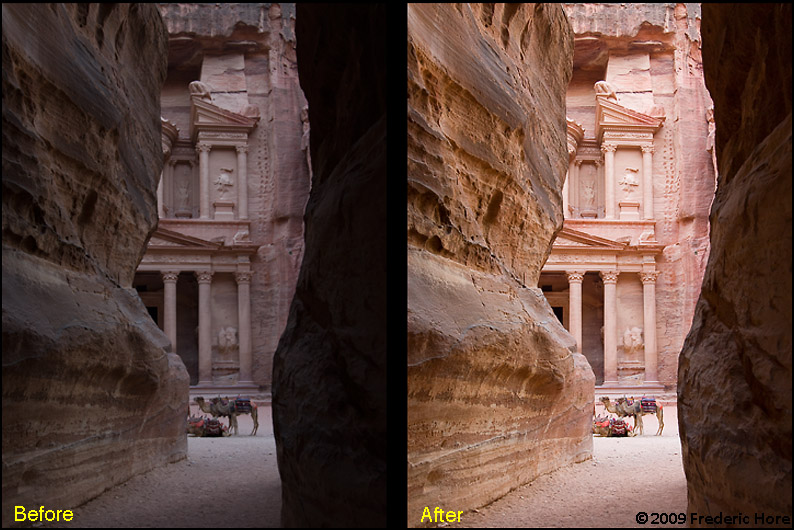 Our 15th Year at Stewart Hall!

Starts: Tuesday May 16 to Wednesday May 24, 2023

13 hours over 5 nights

Pointe Claire Cultural Centre - Stewart Hall
176 chemin Bord-du-Lac / Lakeshore Road

Register now to secure your spot!

---
Master the amazing tools of Adobe Photoshop Elements to process and print great photos, for sharing with family and friends, or to post on social media, in this intensive 13-hour workshop!

In a LIVE step-by-step process over 5 nights, participants will use their own computers in class, learning how to load and open new digital photo files, how to organize their files with the Organizer, then easily Edit their images adjusting the brightness, colour, saturation, clarity and various other corrective tools - to achieve the final image.

Demonstrations include cropping methods, using adjustment Layers for non-destructive editing; how to add borders and type, creating black & white images, plus a few SFX - special effects will be shown, before resizing, sharpening and saving - your new image!

I will be teaching you how to use the NEW 2023 version, however, if you have an older version, that's fine too! They are all similar, with some new additions for 2023.

Two finished projects will be assigned, with helpful tips and critiques provided.

Adobe Photoshop Elements is an image editing software with unlimited possibilities for photographers, artists and creative persons alike. I hope you will attend this workshop, to learn how to hone your skills and creativity, on this wonderful adventure!


13 hours over 5 nights - 7:30pm to 10:00pm

Tuesday, Wednesday, Thursday - May 16, 17, 13 and
Tuesday and Wednesday - May 23 & 24, 2023 inclusive

Recommended for Beginners to Intermediate
Bring your laptop for LIVE hands-on demonstrations and image processing.
This workshop is presented mostly in English.
Questions answered in English and French.

Maximum class size: 10

Topics covered:

- Using the Organizer to archive, keyword and caption images for easy retrieval
- How to use the Adobe Raw Converter (ARC) for superior processing of RAW and even JPG images
- How to use editing tools such as Dodge & Burn, Stamp (clone), Healing & Spot Healing, Gradient, Levels, and many more for best results
- How to perform easy Black & White conversions
- How to create stitched panoramic photos
- How to use the Image Resize function to easily resize digital files for printing, emailing and uploading to social media
- How to effectively use Unsharp Mask and Adjust Sharpness for best results
- How to add Titles, Type and Text with your name and copyright info to a photo
- How to create stunning double & triple borders for a refined look to print photos

A Resource List with recommended books and websites, plus a handout with Keyboard Shortcuts, a worksheet, Photoshop flowchart and more, are included for further guidance and training.

A USB key with four sample images to be edited, will be supplied for LIVE simultaneous hands-on training.

Participants are encouraged to bring their laptop computers to class, pre-loaded with a Photoshop Elements version compatible with their camera. The current version is Photoshop Elements 2023. It can be purchased online from Staples.ca (which is Bureau-en-Gros), Best Buy, Amazon.ca, Adobe.com and other online retailers. Prices vary, so shop carefully!

NOTE: If you recently purchased a new camera, older versions of Photoshop Elements may not work with your camera's RAW files, so make sure your software version is up to date.
Confused? Contact me for guidance.

TIP: The English software is recommended rather than the French version, due to translation problems with technical terms, and the lack of resource books. Menus in the French translation are complicated or more difficult to understand, such as "Flatten Image" (under the Enhance menu).

I recommend purchasing one of these excellent tutorial books (listed below) by authors Scott Kelby & Matt Kloskowski for use during this workshop. With printed screen saves and step-by-step instructions, learning all the features of this unique program is much easier!

Buy at a bookstore or online, for the Photoshop Elements version you have. Examples are:

The Photoshop Elements 2020 Book for Digital Photographers by Scott Kelby
Mastering Photoshop Elements available on Amazon.ca plus others.
Books for older software versions can be purchased. I have a couple I can loan students.


Register now to secure your spot!

Cost for this FIVE night workshop is $105.00 (taxes included)

Register online at:

https://ludik.ville.pointe-claire (This link works!)

If a French form appears and you want English, click on the English link top left.
Then in the search box, type: photoshop. Press Enter. Select this course!

OR

Register by phone, or in person at the Stewart Hall Cultural Centre,
176 chemin Bord-du-Lac/Lakeshore Road in Pointe Claire from
Monday to Thursday - 8:30am to 7pm;
Fridays - 8:30am to 4:30pm
176 chemin Bord-du-Lac/Lakeshore Road in Pointe Claire.


For more information or to reserve your place, please call:

514-630-1220
---
>

Frederic Hore
Not to be missed!