Ye Old Barn Tour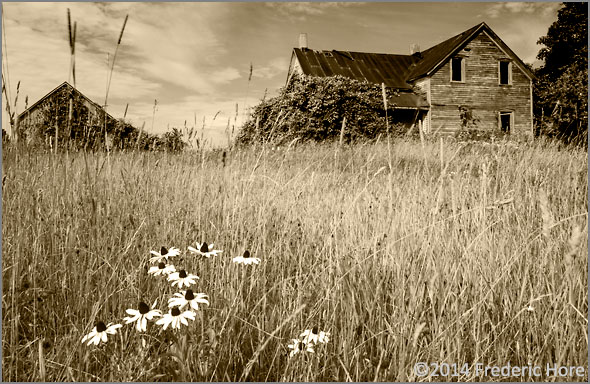 Returns August 26, 2017 from 7AM to 5PM
Old wood barns.

For most people, those three words conjure up images of rustic and aging wood clad structures, with long sloping roofs, massive wood pillars, piles of hay, and perhaps some old farm implements scattered about. These relics from the past were usually built by hand, and erected in the late 19th or early 20th century.

This field trip will focus on five distinctive barns (and possibly more!), including an abandoned homestead with its two outer buildings in the Lancaster area of Eastern Ontario. Personal one-on-one instruction and assistance will be provided to all participants in several truly unique and unspoiled settings.

Departing from our rendezvous point at 7am, the old homestead (shown above) will be our first destination, bright and early to catch the morning light. Poised in a lovely field of hay and wild flowers, including Black-Eyed Susans, we can easily spend two to three hours here, exploring the interiors and lush exteriors, to create some really atmospheric images. The nearby barn, is clad in various types of rusting tin and corrugated metal – perfect for those seeking that weathered look with distinctive abstract textures and patterns.

Our next two destinations included a large, massive, hay barn, with light streaming in through shrunken cladding; and a smaller dilapidated barn with character, tilted and leaning to one side, with crooked windows and really weather beaten wood! A truly old barn!

By 11:15 am, we will probably be thirsty and hungry! Off we will go to the Blue Anchor Bar and Grill, located next to the St Lawrence Seaway. It has a spacious, shaded outdoor eating area, with a diverse menu and delicious food, plus a rustic interior dining room. There are superb views of the passing ships and lakers with refreshing breezes from the river. Here we will recharge, chat and review our images. You can also take photos from this vantage point too!

By 2:00pm, we should be at our next destination, to shoot another caché or hidden barn located in a field of corn. It's an open building with farm implements. The afternoon light will work best for this subject. A small tour through historic Williamstown is next enroute to our last destination, "The Cathedral in the Woods." Appropriately named by local farmers, it's a tall, weathered, and superbly restored old barn, nestled in a grove of colourful maple trees.

Our last stop is for refreshments and munchies at the amiable and bucolic Jack's Pub in Williamstown. Here we will review your images and provide some processing tips using Photoshop Elements 13 or Photoshop CS6.


This workshop will be conducted in English and French. Printed English handouts with Maps, an itinerary and historical information will be provided to all participants by email and at the Rendezvous point.


Date:  Saturday, August 26, 2017 *  

Workshop location: Lancaster area, Eastern Ontario.

Rendezvous Point:  Denny's Restaurant, Flying J Gas station at Exit 814,
                             Highway 401, Lancaster Ontario.

Rendezvous time: 6:45 AM   Allow one hour to drive to Denny's from the West Island area.

Maximum participants: 10   

Skill level: For all - from Beginner to Advanced


* If rain is forecast, the workshop will be re-scheduled to Sunday, August 27 or Saturday, September 9, 2017.


Suggested Equipment:

- DSLR or compact cameras such as Nikon, Canon, Pentax, Sony, Olympus, etc.
- wide angle zoom lens are great - 24mm or wider suggested for interiors and exteriors.
- telephotos zooms for close-ups and to compress a background
- macro lens for details, flowers, wood and metal textures (if you have one)
- camera tripod (best for interiors under low light, good DOF, slow shutter speeds)
- shutter release cable (can also use the self-timer to trip the shutter – instruction provided)


Reservation, Registration and Confirmation:

To reserve your spot, please email Frederic Hore at fhore@remarkable-images.com
or call 514-403-4044


Cost and payment:

$85 + taxes = $97.93 (*per person)

(* Note - meals and beverages not included)

Cheques should be made payable to:
Frederic Hore

Please mail cheques to:
Media Pro Enterprises
c/o Frederic Hore
CP 244, Succ Cote St Luc,
Montreal, QC
H4V 2Y4


Terms and Conditions:

Payment must be received in full by Friday Augusr 18, 2017 at 17h00 to secure your spot.

Payments may also be made in person.
Please call 514-403-4044 to make arrangements.

No refunds for cancellations after NOON, August 23, 2017.

Full refunds will be provided only in the event of sickness by the workshop leader Frederic Hore, or if the event is rained out, and the alternate day of Saturday, September 9, 2017 is not workable.

A receipt will be provided by email as a PDF, at the conclusion of the event. Email confirmation will be provided when payment is received. Printed receipts provided upon request.

* Note: Participants will be notified by email and phone if there is a change in dates due to inclement weather. A Photo Check List, Directions, Itinerary plus more will be provided to registered and paid up participants.

PS - Gas is usually $0.15 to $0.20 per litre cheaper in Lancaster than in Montreal. Come with a nearly empty tank and save $20 in fuel costs!


I look forward to meeting you... providing participants a fantastic day of colourful and stimulating photography in the countryside!
Frederic Hore
Not to be missed!